I got into the Freeman Masks after watching Jenell of KinkyCurlCoilyMe on IG and again with Sunshine of Sunshines Natural & loving it. After hearing them rave about it i decided to go research and look for the ones that would work best with my skin.
I have combination/oily skin. Like when i wake up my face is dry but after cleansing and throughout the day it gets really oily so much so that it bothers my eyes a lot. Hence why i stopped wearing makeup (among other reasons) since i would always be rubbing my eyes. I did start blotting throughout the day but i needed something in my skin care line that would help.
As you all know from my last face time post with the
ACV and ABS
mishap, i switched to
Carols Daughter Acai Clarifying line.
After a trying it in one of their workshops and seeing the immediate effects that ti had on my skin. I was hooked. I bought the line and was impressed with the results. And combined with the Freeman
Purifying Acai
clay mask my skin was in heaven. i love the light berry scent of the clay mask and the fact that it goes on really smooth. It doesnt over dry or irritate my skin. And i highly recommend it to others with really oily skin like myself.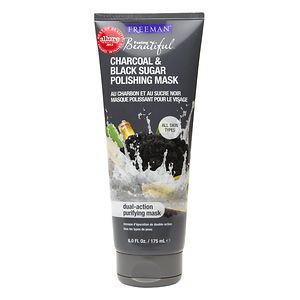 Recently stopping into a beauty supply store i say the Freeman Feeling Beautiful Polishing mask, made with
Charcoal and Black Sugar
. I was like oh shit they have it. I first heard about it when i bought my first set of clay mask and it was still in the promotional phase. So i was like heck yea $5 well spent with this buy!
And it was.
This mask is a dual one. Its a mask but works as a scrub as well. Now if any of you have tried a brown sugar scrub with the large crystals then you know its a bit of a pain to rub in. But this not so much. You smooth it on first, leave for 5-7 minutes and then scrub it in before washing off with cool water. Unlike with other masks or scrubs you dont have to worry about missing any spots since the sugar dissolves once the water touches it.
When i say i love this mask. I pretty much use it almost everyday! Its that good. With these three products my skin is brighter - has a bit of a glow to it, less oily, and smooth =)
Have you tried and Freeman masks? If so, whats you're favorite?
A.Soul